STAND UP COMEDY
Stand Up Comedy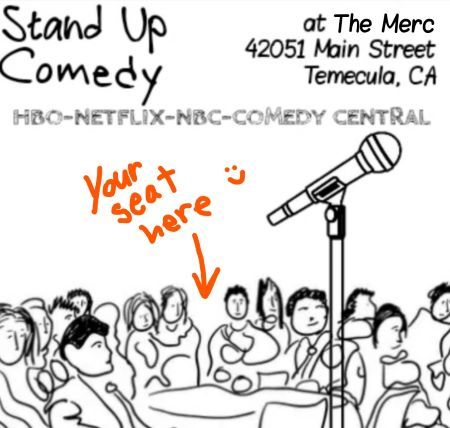 Presented by Empire Comedy in association with Sherry Berry Music

Monthly @ 7pm and 9pm

Each month, Stand Up Comedy in The Merc features some of the best comedians in the country. The headlining artists have numerous TV and film credits (HBO, Netflix, Comedy Central, Showtime) and currently tour the country. Stand Up Comedy often sells out, so purchase tickets in advance. We look forward to laughing with you!

TICKET PRICES:
$23 Regular*

*18+ (adult subject matter; not suitable for children)




CLASSICS AT THE MERC
Classics At The Merc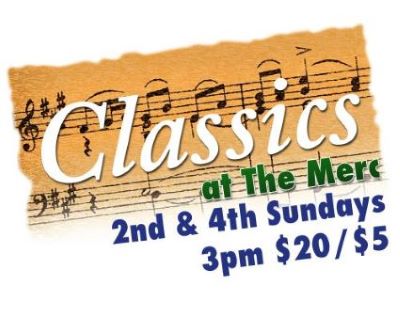 Presented by California Chamber Orchestra in association with Temecula Presents


Join us in The Merc on the 2nd and 4th Sundays of each month for chamber performances by the region's best professional musicians. The intimate setting of The Merc allows the audience and musicians to interact with each other so you can learn about the musicians, their instruments, their careers, and the music they perform. Below is information on some of the performances:
July 10
: Tasha Smith Godinez, harp
July 24
: Michael Nigro, classical guitar
August 14
: Erica Erenyi, cello and Fred Benedetti, guitar
August 28
: 8 Plus 88 (Alyze Dreiling, violin; Lorie Kirkell, cello; Steve Gray, piano)
September 11
: Windsong Consort
September 25
: Andrew Harrison, saxophone with Jason Lo, piano
October 9
: Dolce Vento (Susan Greenberg, flute; Sean Stackpoole, flute and saxophone, Tae Yeon Lim, piano).
Check out their
promotional video!

October 23
: Southern California Brass Quintet
November 13
: Quartetto Sorrento (Ondrej Lewit and Jorge Soto, violin; Paula Simmons, viola; Gordon Grubbs, cello)
TICKET PRICES:
$20 Regular
$5 Students w/ID
JAZZ AT THE MERC
Jazz At The Merc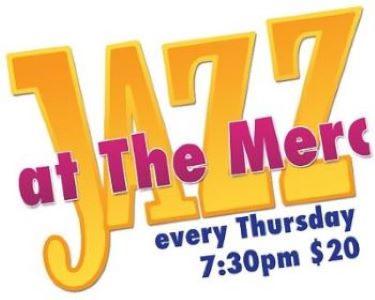 Presented by Sherry Berry Music in association with Temecula Presents


Sherry Williams hosts "Jazz At The Merc"!


Each Thursday (and special performance dates throughout the year), you will be treated to a different jazz group in the intimate space known as "The Merc". The Mercantile is one of Temecula's original buildings and has been beautifully restored. We wanted to take advantage of this venue and bring you straight ahead jazz every Thursday evening in this acoustically inspired space.


TICKET PRICES: