HENRY KAPONO 2018
Bundle
Buy Bundle
Create your perfect season package! Pick any five or more performances from any of the Temecula Presents Series at these discounted individual ticket prices: Classical $25 Big Band $32 Dance $20 Aloha $30 Legends $20 Click the "Buy Tickets" button below to begin selecting your performances and seats*. *You must hand-select your seat(s) for each performance in this package. The same seat(s) for each performance chosen is not guaranteed to be available, based on current availability. "Create Your Own Packages" are AVAILABLE NOW through May 25, 2019!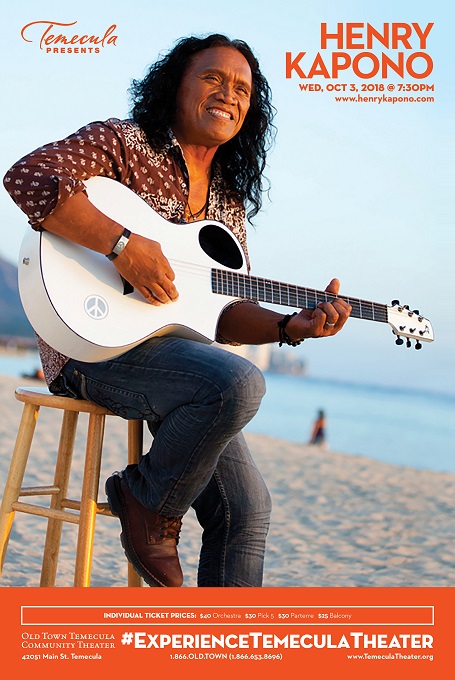 OCT 3, 2018 @ 7:30pm
Presented by Temecula Presents
VENUE:
The Old Town Temecula Community Theater
Henry Kapono is a performer who has it all – vocalist, guitarist, songwriter, composer, thrilling performer, audience favorite – and multiple honors and awards, including a Grammy nomination, along with taking home 14 Nā Hōkū Hanohano Awards (Hawaii's "Grammy").


Returning to Temecula's stage after four years, Henry Kapono will be sharing some of our favorite songs as well as introducing us to his new music! Henry's original songs with a rock vibe celebrate his love for his family, express pride in his Hawaiian culture, and share the joy of his home in the Islands!
www.henrykapono.com
SEASON PACKAGE PRICES
$135 Orchestra for all performances
$100 Parterre for all performances
$85 Balcony for all performances
TICKETS:
$40 Orchestra
$30 Parterre
$30 Pick 5
$25 Balcony
VIP Packages available, please contact Mehe'ula Music Productions at meheulamusic@aol.com