AEROMYTH (AEROSMITH TRIBUTE)
Bundle
Buy Bundle
Create your perfect season package! Pick any five or more performances from any of the Temecula Presents Series at these discounted individual ticket prices: Classical $25 Big Band $32 Dance $20 Aloha $30 Legends $20 Click the "Buy Tickets" button below to begin selecting your performances and seats*. *You must hand-select your seat(s) for each performance in this package. The same seat(s) for each performance chosen is not guaranteed to be available, based on current availability. "Create Your Own Packages" are AVAILABLE NOW through May 25, 2019!
Buy Bundle
Legends Season Package
Temecula's Theater brings you the best, and our LEGENDS series is no exception! Join us for world-class bands paying tribute to some of Rock-n-Roll's greatest!
PERFORMANCES:
October 4, 2018 at 8pm
– The Long Run (Eagles Tribute)
October 5, 2018 at 8pm
– Aeromyth (Aerosmith Tribute)
November 2, 2018 at 8pm
- Twisted Gypsy (Fleetwood Mac Tribute)
January 3 & 4, 2019 at 8pm
– Led Zepagain (Led Zeppelin Tribute)
January 31, 2019 at 8pm
- Strange Days (The Doors Tribute)
March 7, 2019 at 8pm
- DSB (Journey Tribute)
March 8, 2019 at 8pm
- Petty And The Heartshakers (Tom Petty Tribute)
April 26, 2019 at 8pm
- The Rising (Bruce Springsteen Tribute)
May 24, 2019 at 8pm
- Garratt Wilken & The Parrottheads (Jimmy Buffett Tribute)
SEASON PACKAGE PRICING for any five performances:
$100 for the season
$20 Pick Five*
*Pick any five Temecula Presents shows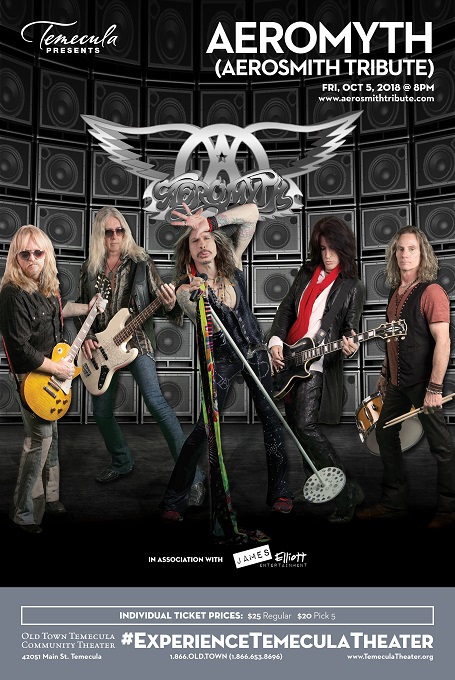 OCT 5, 2018 @ 8pm
Presented by Temecula Presents


VENUE: The Old Town Temecula Community Theater


Aeromyth has accomplished what they set out to do, become the World's Greatest Aerosmith Tribute Band! Performing all of the Aerosmith greatest hits such as "Walk This Way", "Sweet Emotion", and "Toys in The Attic", to more current hits like "Dude Looks Like A Lady", "Jaded", and "I Don't Wanna Miss A Thing".
An Aeromyth concert will take you back to your youth, as well as entertain the masses who grew up with the band in the 80s & 90s. This band consists of some very experienced and professional musicians with many years of studio and stage experience who collectively have the look and present a stage show making you believe you are at an Aerosmith concert. You can count on Aeromyth to bring you the very best of Aerosmith!
www.aerosmithtribute.com
SEASON PACKAGE PRICES
$100 For any five performances

TICKETS:
$25 Regular
$20 Pick 5