JOSHUA ROMAN, CELLO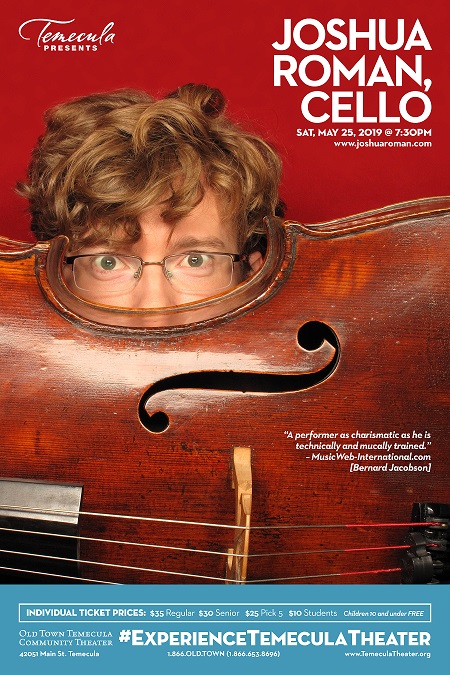 MAY 25, 2019 @ 7:30pm
Presented by Temecula Presents
VENUE:
Old Town Temecula Community Theater
Joshua Roman has earned an international reputation for his wide-ranging repertoire, a commitment to communicating the essence of music in visionary ways, artistic leadership and versatility. A native of Oklahoma City, Roman began playing the cello at the age of three on a quarter-size instrument, and gave his first public recital at age ten.


Roman's cultural leadership includes using digital platforms to harness new audiences. A celebrated performer, he is recognized as an accomplished composer and curator, and was named a TED Senior Fellow in 2015.
www.joshuaroman.com
PROGRAM:Suite No. 3 in C Major, BWV. 1009J.S. BACH (1685-1750) Prelude Allemande Courante Sarabande Bourrée

Bourrée Gigue Julie-OSUMMER (b. 1958) Capriccio per Siegfried PalmPENDERECKI (b. 1933) INTERMISSION SpunSHARLAT (b. 1977) In manus tuasSHAW (b. 1982) The Dragon and the GirlBIELAWA (b. 1968) Riding LightROMAN (b. 1983)
TICKET PRICES
$35
Regular
$30
Senior
$25
Pick 5
$10
Student
*Children 10 and under FREE