PLACES
Bundle
Buy Bundle
Create your perfect season package! Pick any five or more performances from any of the Temecula Presents Series at these discounted individual ticket prices: Classical $25 Big Band $32 Dance $20 Aloha $30 Legends $20 Click the "Buy Tickets" button below to begin selecting your performances and seats*. *You must hand-select your seat(s) for each performance in this package. The same seat(s) for each performance chosen is not guaranteed to be available, based on current availability. "Create Your Own Packages" are AVAILABLE NOW through May 25, 2019!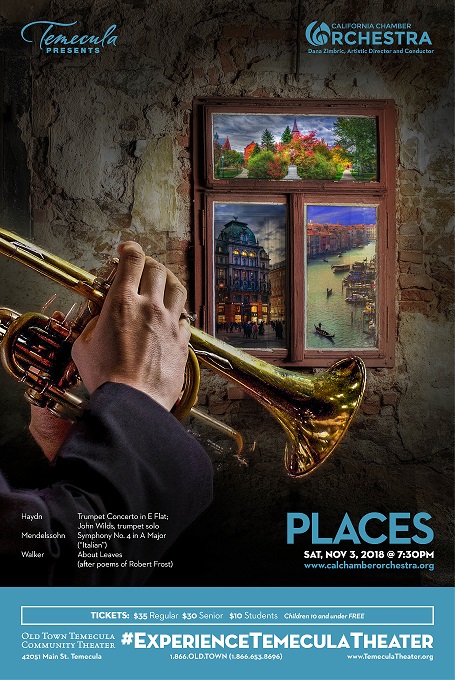 NOV 3, 2018 @ 7:30pm
Presented by California Chamber Orchestra and Temecula Presents
VENUE:
Old Town Temecula Community Theater
Vienna on the cusp of a musical revolution, Italy's irrepressible joy, and a crisp fall afternoon in New England.
Haydn Trumpet Concerto in E Flat
John Wilds, trumpet solo
Mendelssohn Symphony No. 4 in A Major ("Italian")
Walker About Leaves (after poems of Robert Frost)
SEASON PACKAGE PRICES
$150
All seven performances
$125
Any five performances, excluding Candlelight Classics
INDIVIDUAL TICKET PRICES
$35
Regular
$30
Senior
$25
Pick 5
$10
Student
*Children 10 and under FREE