20TH CENTURY LEGENDS OF LAS VEGAS LIVE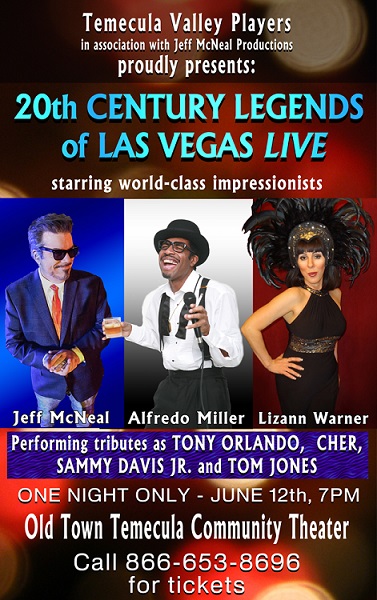 JUN 12, 2019 at 7:00pm
Presented by Temecula Valley Players


VENUE: Old Town Temecula Community Theater


Sizzling Las Vegas entertainment comes to Temecula for one night only in support of Temecula Valley Players! This fundraising event will feature three of the world's most talented vocal impressionists: Cher impersonator Lizann Warner, Sammy Davis Jr. impersonator Alfredo Miller, and local sensation Jeff McNeal bookending this thrilling 90-minute show as both Tony Orlando and Tom Jones!

Lizann Warner (Cher) has a 15+ year history as a professional session vocalist. Her recording credits include lead and backing vocal tracks for record producers, manufacturers, and voice over work for radio spots. Lizann currently tours the U.S. with her Heart tribute band "Dog N Butterfly".

Alfredo Miller (Sammy Davis Jr.) can be seen all over America and Europe performing as Sammy Davis Jr. in his solo show "Live from Las Vegas" and as a member of the Rat Pack is Back from Las Vegas. He has toured and performed on stages and casinos all over the world for over 25 years.

Jeff McNeal (Tony Orlando and Tom Jones) spent nearly 20 years as a top-rated radio personality. Jeff has been heard in national and international TV commercials as well as theatrical movie trailers, including Disney's "Frozen". In 2010 he formed Mrs. Jones' Revenge, where his vocal impressions, backed by world class musicians, reflect over fifty different artists.


TICKETS:
$25 Regular