TARZAN (FANTC SUMMER CAMP)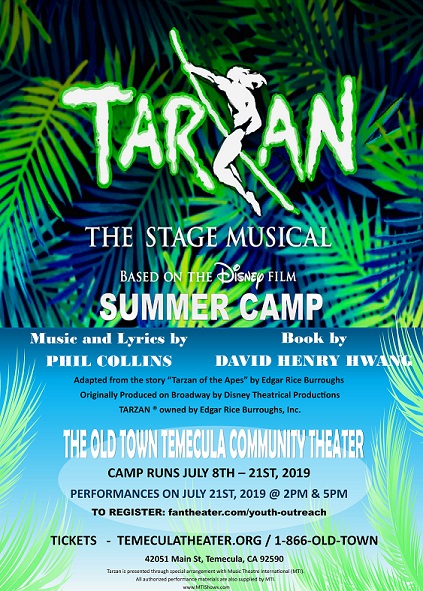 SUN, JUL 21, 2019 @ 2pm & 5pm
Presented by Fine Arts Network Theater Company


VENUE: Old Town Temecula Community Theater


Every summer Fine Arts Network Theater Company provides a 2-week summer camp for ages 6 to 18. The campers get to enjoy working with theater professionals and performing on the beautiful Old Town Temecula Community Theater stage!
In the camp they have fun learning audition, dance, singing, and acting techniques that they can use throughout their entire career. This year the production is Tarzan. The story of an infant boy washed up on the shores of West Africa who is taken in and raised by gorillas who name him Tarzan. Apart from striving for acceptance from his ape father, Tarzan's life is mostly monkey business until a human expedition treks into his tribe's territory, and he encounters creatures like himself for the first time. Tarzan struggles to navigate a jungle, thick with emotion, as he discovers his animal upbringing clashing with his human instincts. A story that pulls at your heart strings and makes you laugh out loud, Tarzan is fun for the whole family!
Come join in on the fun! Sign up at
www.fantheater.com
!
TICKETS:
$15 Orchestra
$10 Parterre and Balcony