KAHULANUI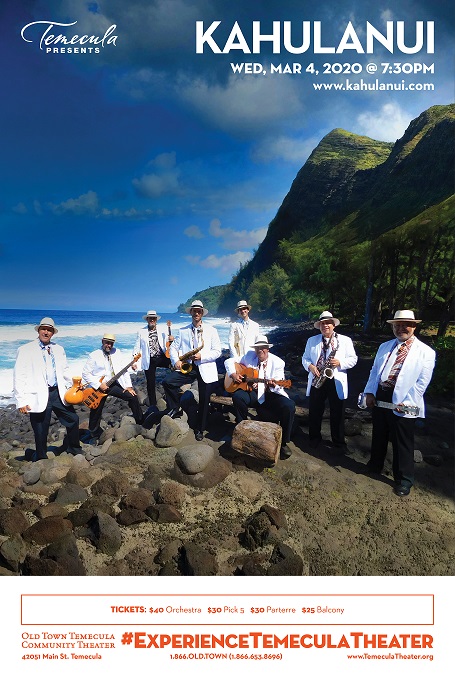 WED, MAR 4, 2020 at 7:30pm
Presented by Temecula Presents
VENUE:
The Old Town Temecula Community Theater
Kahulanui, dubbed "The Hawaiian Kings of Swing", is a nine-piece Hawaiian Swing Band from the Big Island of Hawaii. Known for their innovative and creative arrangements, Kahulanui's music will take you on a trip back in time when Hawaiian music blended with American Jazz, creating a genre known as Hawaiian Swing.

Throughout the 1920's and 1930's, one could find orchestras playing Hawaiian Swing and the house would be jumping. Kahulanui borrowed from these influences and perform classic songs in a syncopated style making Hawaiian Swing vibrant and alive today.
www.kahulanui.com
SEASON PACKAGE PRICES$95
Orchestra for all performances
$70
Parterre for all performances
$60
Balcony for all performances
TICKETS:
$40
Orchestra
$30
Parterre
$30
Pick 5
$25
Balcony