MAD DOGS AND THE ENGLISHMAN (JOE COCKER TRIBUTE)
Bundle
Buy Bundle
Create your perfect season package! Pick any five or more performances from any of the Temecula Presents Series at these discounted individual ticket prices: Classical $25 Big Band $32 Dance $20 Aloha $30 Legends $20 Heroes $30 Blues $20. Click the "Buy Tickets" button below to begin selecting your performances and seats*. *You must hand-select your seat(s) for each performance in this package. The same seat(s) for each performance chosen is not guaranteed to be available, based on current availability. "Create Your Own Packages" are AVAILABLE NOW through May 20, 2020!
Buy Bundle
Legends Season Package

Temecula's Theater brings you the best, and our LEGENDS series is no exception! Join us for world-class bands paying tribute to some of Rock-n-Roll's greatest!

PERFORMANCES:
October 5, 2019 at 8pm – Mad Dogs and The Englishmen (Joe Cocker Tribute)
October 31, 2019 at 8pm – OzzMania (Ozzy Osbourne/Black Sabbath Tribute)
November 1, 2019 at 8pm - The Long Run (Eagles Tribute)
January 2, 2020 at 8pm – Queen Nation (Queen Tribute)
January 30, 2020 at 8pm - Led Zepagain (Led Zeppelin Tribute)
March 6, 2020 at 8pm - Bee Gees Gold (Bee Gees Tribute)
April 23, 2020 at 8pm - STYXOLOGY (STYX Tribute)
April 24, 2020 at 8pm - Last Train to Memphis (Cash, Killer, King Tribute)
May 21, 2020 at 8pm - Tribute to the Music of John Denver
May 22, 2020 at 8pm - Petty And The Heartshakers (Tom Petty Tribute)

SEASON PACKAGE PRICING for any five performances:
$100 for any five performances
$20 Pick Five*

*Pick any five Temecula Presents shows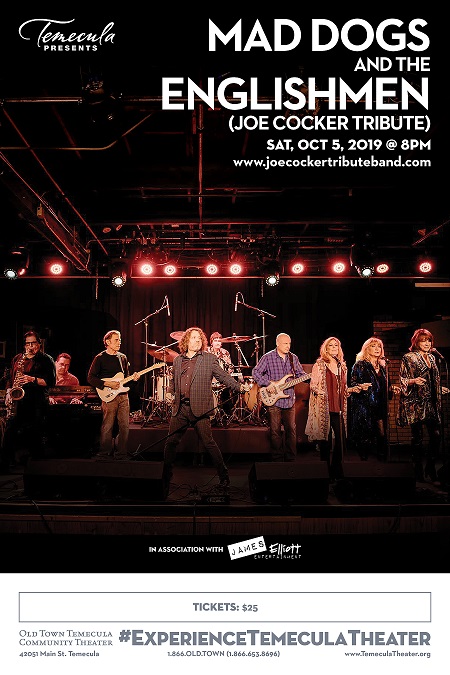 SAT, OCT 5, 2019 @ 8pm
Presented by Temecula Presents


VENUE: The Old Town Temecula Community Theater


All-Star Band Mad Dogs & The Englishman is fronted by incredible singer Jason Feddy, paying tribute to the legendary Joe Cocker. Jason's uncanny renditions of Cocker classics like "Unchain My Heart", "You Can Leave Your Hat On", "Up Where We Belong", "You Are So Beautiful", and other hits will have you "Feelin' Alright". The incredible nine-piece band of rock, jazz and soul veterans nail the sound of Joe Cocker's timeless music and will have you moving in your seat until you are on your feet.
www.joecockertributeband.com
SEASON PACKAGE PRICES$100
For any five performances

TICKETS:
$25 Regular
$20 Pick 5