STATE STREET BALLET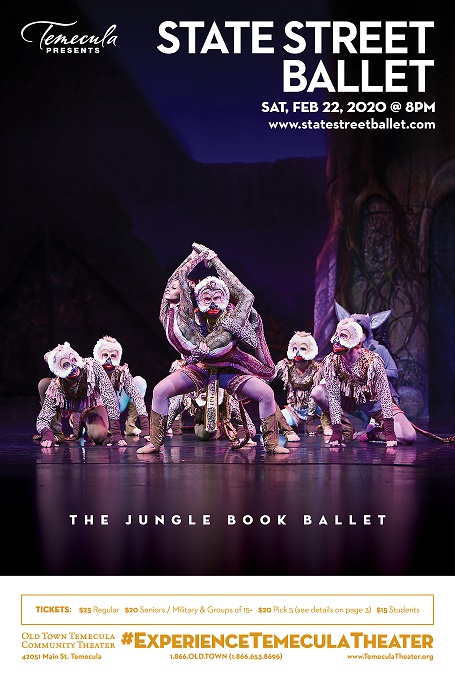 SAT, FEB 22, 2020 @ 8pm
Presented by Temecula Presents
VENUE:
Old Town Temecula Community Theater
State Street Ballet is a vibrant, innovative, professional ballet company based in Santa Barbara, California. Founded in 1994 by former American Ballet Theatre dancer Rodney Gustafson, the company combines the discipline and timeless elegance of classical ballet technique with updated, cutting-edge choreography, producing original works that satisfy today's diverse audiences.
Water, Air, Earth, and Fire, the four natural elements, intertwine in this dazzling adaptation of Rudyard Kipling's classic collection of stories. The complexities of the jungle and the personalities of its creatures come alive through movement, music, and the dynamic storytelling of some of life's greatest moral lessons.
Choreographed by Artistic Director Rodney Gustafson, with an original score by Czech composer and conductor Milan Svoboda,
The Jungle Book
premiered to enthusiastic audiences, instantly being called a "crowd-pleaser," "a joy to behold," and "visually stunning." See your favorite characters come to life in this original production!
www.statestreetballet.com
SEASON PACKAGE PRICES$80
Regular for all performances
$65
Senior 65+/Military for all performances
$50
Students for all performances
INDIVIDUAL TICKET PRICES$25
Regular
$20
Senior 65+/Military & Groups of 15+*
$20
Pick 5
$15
Student
*Please call ticket office for group orders