A FUNNY THING HAPPENED ON THE WAY TO THE FORUM 2022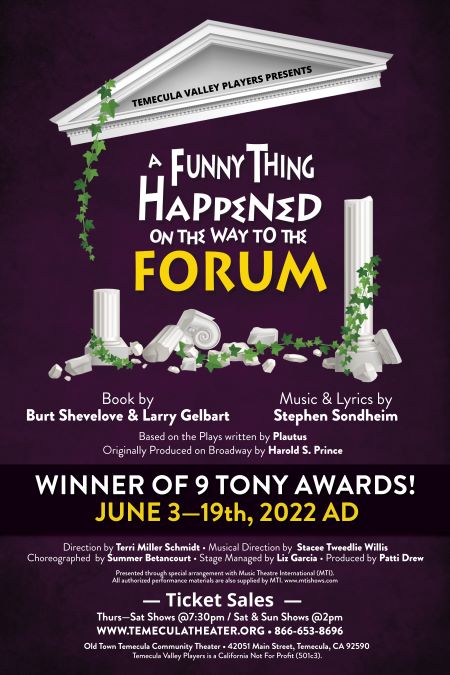 JUN 3, 4, 9, 10, 11, 16, 17, 18, 2022 @ 7:30pm
JUN 4, 5, 11, 12, 18, 19, 2022@ 2:00pm
Presented by Temecula Valley Players


VENUE: Old Town Temecula Community Theater


"Something for everyone, a comedy tonight!" Pseudolus, a crafty Roman slave, struggles to win the hand of Philia for his young master, Hero, in exchange for his freedom. The plot twists and turns with cases of mistaken identity, slamming doors and a showgirl or two. Join us for this This Mel Brooks style, nonstop laugh fest that takes comedy back to its roots, combining situations from time-tested, 2000-year-old comedies of Roman playwright, Plautus, with the infectious energy of classic vaudeville.

Book by Burt Shevelove and Larry Gelbart. Music and Lyrics by Stephen Sondheim. Presented through special arrangement with Music Theatre International.

TICKET PRICES
$28 Orchestra
$24 Parterre
$24 Balcony
$18
Wednesday & Thursday all seats
$22
Groups of 15 or more* FRI, SAT, SUN only.
*Call the ticket office for group ticket sales.
DISCLAIMER: Rated PG-13.