STAND UP COMEDY - JASON STUART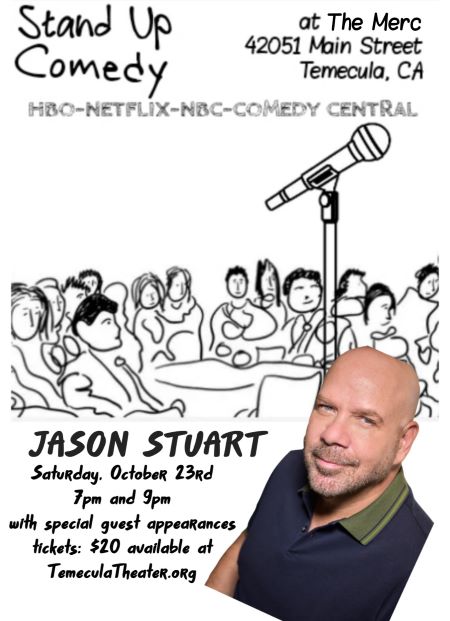 SAT, OCT 23, 2021 @ 7PM and 9PM

*Jason Stuart will be performing at 7PM and 9PM. Tickets sold separately.*
National Headliner: Jason Stuart
Featuring: Anita Milner

After years of steady work in film and television, and over 150 credits on his IMDB page, actor and comedian Jason Stuart has achieved a pinnacle of success many actors only dream of. "For the last few years, people have started to approach me and say, 'You're that guy!,'" he explains with his characteristic gravelly laugh. Indeed, with guest-starring and supporting credits in everything from the Billy Bob Thornton starrer "Goliath" to Judd Apatow's "Love" to "Sleepy Hollow" to "Tangerine" and "The Birth of a Nation," Stuart has now established himself as one of those all-too-familiar faces who might just pop up anywhere, in any kind of role.

Stuart is a longtime veteran of stand-up comedy, born in the Bronx and raised in the Fairfax district of Los Angeles. A self-described insecure Jewish kid who turned to theatre and performing to mask his emerging sexual identity - he jokes about going to see Barbra Streisand in "Funny Girl" as a youth and falling in love with Omar Sharif. His talent and determination got him some early professional work in films like "Kindergarten Cop," "Vegas Vacation," and TV shows like "Murder, She Wrote" and "The Drew Carey Show." But by the early-90s, frustrated by years of living in the closet, Stuart chose to come out publicly on an episode of Geraldo Rivera's talk show focused on "Unconventional Comedians."

Stuart is also proud of how he has kept his reputation as a comedian while still flourishing as an actor. "I've always thought about myself as an actor first, comedian second," he says. "When I think of what I want to do with the next phase of my career, I think about being a great character actor. I revered the late Philip Seymour Hoffman, his ability to always disappear into his characters, no matter the role. He was a character actor who happened to be a movie star."

These days, Stuart keeps his comedy chops polished through stand-up gigs all over the country as well as his speaking tour "Coming Out in Hollywood: Being out in the workplace". He continues to serve as the National Co-Chairman of the SAG-AFTRA LGBTQ Committee (which he created), and has a memoir about to be published from CCB Publishing ("Shut Up, I'm Talking!") He's also just completed a number of projects, including a new comedy web series "Smothered," co-created with Mitch Hara.
Every person entering the venue must hold a ticket.
No refunds.
Not suitable for children.

TICKETS:
$20 Regular