THE WIZARD OF OZ 2022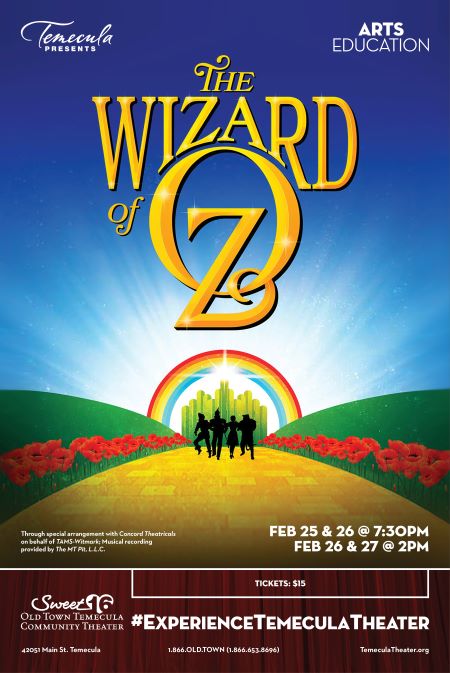 FEB 25 & 26, 2022 @ 7:30PM
FEB 26 & 27, 2022 @ 2PM
Presented by Temecula Presents

VENUE: Old Town Temecula Community Theater

Follow the yellow brick road to this delightful stage adaptation of the beloved tale featuring the iconic musical score from the MGM film. The timeless tale, in which young Dorothy Gale travels from Kansas somewhere over the rainbow to the magical Land of Oz, continues to thrill audiences worldwide.
Music by: L. Frank Baum
Lyrics by: Harold Arlen and E.Y. Harburg

Through special arrangement with Concord Theatricals
on behalf of TAMS-Witmark; Musical recording
provided by The MT Pit, L.L.C.


TICKETS:
$15 Regular

*Children under the age 2 are FREE on an adult's lap. The child must have a ticket to enter theater. Obtain a "BABES" ticket at the Ticket Office.