SHERRY WILLIAMS IN CONCERT 2022
Bundle
Buy Bundle
LEGENDS SERIES:
September 29, 2022 @ 8pm - The Long Run (Eagles Tribute)
September 30, 2022 @ 8pm - DÉJÀ VU (Crosby, Still, Nash and Young Tribute)
October 1, 2022 @ 8pm - Taylor Made Tapestry
January 12, 2023 @ 8pm - DSB (Journey Tribute)
January 13, 2023 @ 8pm - Ronstandt Revival (Linda Ronstadt Tribute)
March 3, 2023 @ 8pm - Billy Nation (Billy Joel Tribute)
March 4, 2023 @ 8pm - Elton The Early Years (Elton John Tribute)
April 6, 2023 @ 8pm - Wild World (Cat Stevens Tribute)
April 7, 2023 @ 8pm - Everyday People (Sly and the Family Stone Tribute
May 26, 2023 @ 8pm - Garth Guy (Garth Brooks Tribute)
May 27, 2023 @ 8pm - Strange Days (Doors Tribute)

ALOHA SERIES:
October 27, 2022 @ 7:30pm – Taimane
March 1, 2023 @ 7:30pm – Kulaiwi
May 27, 2023 @ 7:30pm – Slack Key with Kimo West and Ken Emerson

CLASSICAL SERIES:
October 29, 2022 @ 4:00pm – Blake Pouliot, Violin with Henry Kramer, Piano
February 25, 2023 @ 7:30pm - The String Queens
April 8, 2023 @ 7:30pm – Anita Graef, Cello/ Peter Dugan, Piano, Kara Dugan, Soprano

BIG BAND SERIES:
October 30, 2022 @ 2pm – Sherry Williams in Concert
January 15, 2023 @ 2pm - Rat Pack Birthday Celebration of Frank Sinatra and the Rat Pack
March 5, 2023 @ 2pm – 11th Annual Jazz Festival
April 2, 2023 @ 2pm – Swingin' with Sammy
May 28, 2023 @ 2pm – Big Band Memorial Day Tribute

DANCE SERIES:
November 19, 2022 @ 8pm - Backhausdance
January 7, 2023 @ 8pm - Reverb Tap Company
April 29, 2023 @ 8pm - Ririe-Woodbury Dance Company

SPOTLIGHT SERIES:
January 14, 2023 @ 7:30pm - Ellas
February 24, 2023 @ 7:30pm - Sherry Williams (Then and Now)
February 26, 2023 @ 2pm - Jonathan Karrant (Reimagined)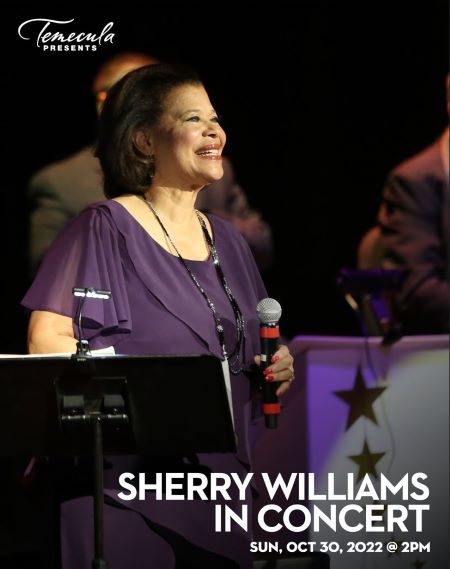 SUN, OCT 30, 2022 @ 2PM
Presented by Temecula Presents


VENUE: Old Town Temecula Community Theater


Temecula's favorite entertainer Sherry Williams returns to Temecula's main stage for her annual concert with the Big Band All Stars. You will become an instant fan once you hear Sherry's melodious voice and experience her charming connection with the audience.

Sherry will perform a collection of swinging songs from the Great American Songbook and orchestrations by some of the finest arrangers like John Rodby and Keith Droste. The Big Band All Stars will play such hits as Blame It On My Youth, Cloud Burst, I Got Rhythm, Caravan, What Are You Afraid Of, and more to keep you swinging and foot-tapping all afternoon long. Come experience Temecula's favorite singing sensation, Sherry Williams, accompanied by Jeff Stover's Orchestra featuring Keith Droste on piano and conducted by John Rodby.
TICKET PRICES:
$37 Regular*
$35 Senior/Military
$25 Student

$31 Group of 15+
$32 Pick 5

BIG BAND SEASON PACKAGE PRICES:
$175 Regular for all performances
$160 Senior/ Military for all performances


*Family Discount: Two children are admitted for free with each paid adult ticket.