DÉJÀ VU (CROSBY, STILLS, NASH, AND YOUNG TRIBUTE)
Bundle
Buy Bundle
LEGENDS SERIES:
January 12, 2023 @ 8pm - DSB (Journey Tribute)
January 13, 2023 @ 8pm - Ronstandt Revival (Linda Ronstadt Tribute)
March 3, 2023 @ 8pm - Billy Nation (Billy Joel Tribute)
March 4, 2023 @ 8pm - Elton The Early Years (Elton John Tribute)
April 6, 2023 @ 8pm - Wild World (Cat Stevens Tribute)
April 7, 2023 @ 8pm - Everyday People (Sly and the Family Stone Tribute
May 26, 2023 @ 8pm - Garth Guy (Garth Brooks Tribute)
May 27, 2023 @ 8pm - Strange Days (Doors Tribute)

ALOHA SERIES:
March 1, 2023 @ 7:30pm – Kulaiwi
May 27, 2023 @ 7:30pm – Slack Key with Kimo West and Ken Emerson

CLASSICAL SERIES:
February 25, 2023 @ 7:30pm - The String Queens
April 8, 2023 @ 7:30pm – Anita Graef, Cello/ Peter Dugan, Piano, Kara Dugan, Soprano

BIG BAND SERIES:
January 15, 2023 @ 2pm - Rat Pack Birthday Celebration of Frank Sinatra and the Rat Pack
March 5, 2023 @ 2pm – 11th Annual Jazz Festival
April 2, 2023 @ 2pm – Swingin' with Sammy
May 28, 2023 @ 2pm – Big Band Memorial Day Tribute

DANCE SERIES:
November 19, 2022 @ 8pm - Backhausdance
January 7, 2023 @ 8pm - Reverb Tap Company
April 29, 2023 @ 8pm - Ririe-Woodbury Dance Company

SPOTLIGHT SERIES:
January 14, 2023 @ 7:30pm - Ellas
February 24, 2023 @ 7:30pm - Sherry Williams (Then and Now)
February 26, 2023 @ 2pm - Jonathan Karrant (Reimagined)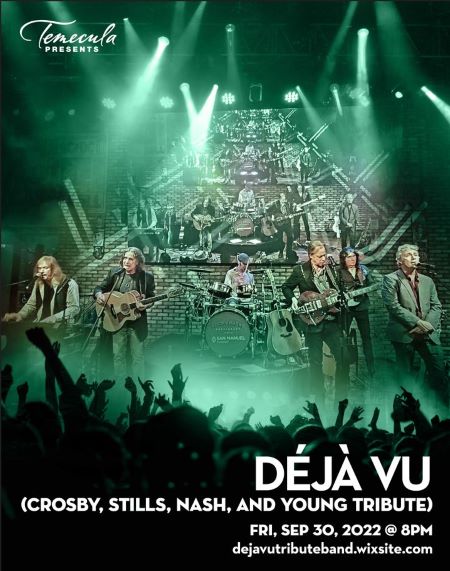 FRI, SEP 30, 2022 @ 8PM
Presented by Temecula Presents


VENUE: The Old Town Temecula Community Theater


For over five decades, the music of Crosby, Stills, Nash, and Young has spoken to generations of listeners worldwide. From the gentle love songs like Our House and Guinnevere, to the politically charged anthems like Wooden Ships, Long Time Gone, and Ohio, CSN&Y's powerful messages have never failed to excite and move audiences.

Déjà Vu is the most accurate and heartfelt re-creation of the CSN&Y experience. Brought to life by a group of highly-dedicated and experienced L.A. area musicians, Mike Murray, Steve Elowe, Jim Wootten, and Devitt Feeley to perform the legendary music of CSN&Y – but they also take their audience on a magical, musical trip through classic rock history!

You will hear songs like Teach Your Children, Southern Cross, Déjà Vu, Rockin' In The Free World, Almost Cut My Hair, Suite: Judy Blue Eyes, Southern Man, and many, many more that you have come to know and love over the years. Rest assured that Déjà Vu will please the most ardent CSN&Y fans.

TICKET PRICES:
$25 Regular
$20 Pick 5

LEGENDS SEASON PACKAGE PRICES:
$100 for any five performances