KULĀIWI
Bundle
Buy Bundle
LEGENDS SERIES:
March 3, 2023 @ 8pm - Billy Nation (Billy Joel Tribute)
March 4, 2023 @ 8pm - Elton The Early Years (Elton John Tribute)
April 6, 2023 @ 8pm - Wild World (Cat Stevens Tribute)
April 7, 2023 @ 8pm - Everyday People (Sly and the Family Stone Tribute
May 26, 2023 @ 8pm - Garth Guy (Garth Brooks Tribute)
May 27, 2023 @ 8pm - Strange Days (Doors Tribute)

ALOHA SERIES:
March 1, 2023 @ 7:30pm – Kulaiwi
May 25, 2023 @ 7:30pm – Slack Key with Kimo West and Ken Emerson

CLASSICAL SERIES:
February 25, 2023 @ 7:30pm - The String Queens
April 8, 2023 @ 7:30pm – Anita Graef, Cello/ Peter Dugan, Piano, Kara Dugan, Soprano

BIG BAND SERIES:
March 5, 2023 @ 2pm – 11th Annual Jazz Festival
April 2, 2023 @ 2pm – Swingin' with Sammy
May 28, 2023 @ 2pm – Big Band Memorial Day Tribute

DANCE SERIES:
April 29, 2023 @ 8pm - Ririe-Woodbury Dance Company

SPOTLIGHT SERIES:
February 24, 2023 @ 7:30pm - Sherry Williams (Then and Now)
February 26, 2023 @ 2pm - Jonathan Karrant (Reimagined)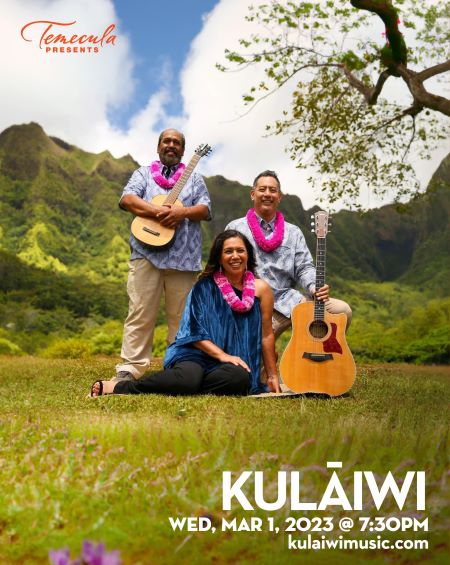 WED, MAR 1, 2023 @ 7:30PM
Presented by Temecula Presents
VENUE:
The Old Town Temecula Community Theater
Individually, these three artists have a number of Nā Hōkū Hanohano Awards between them. Lehua Kalima is one-third of Hawai'i's beloved Nā Leo Pilimehana. Shawn Pimental is a Grammy-nominated producer, and he and Kawika Kahiapo have performed with countless island and national favorites. Together the synergy they create is both heard and felt by their audiences.
Kulāiwi means "land of my ancestors." With soaring vocals, island harmonies and a folk vibe, along with an easy-going charisma and witty banter, they are committed to telling the stories of Hawai'i – the land and the people – from their Indigenous points of-view. Both their original songs and their selections of Hawaiian classics are inspired by diverse musical styles and reflect their passionate commitment to their islands.
kulaiwimusic.com
TICKET PRICES:
$40
Orchestra
$30
Parterre
$25
Balcony
$30
Pick 5