SLACK KEY WITH KIMO WEST AND KEN EMERSON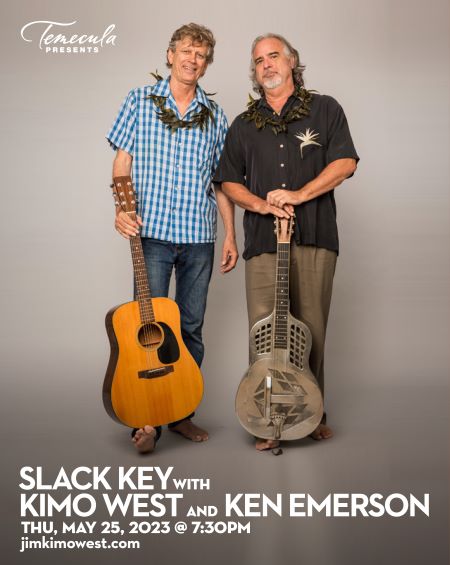 THU, MAY 25, 2023 @ 7:30PM
Presented by Temecula Presents
VENUE:
The Old Town Temecula Community Theater
Slack and steel guitar duets conjure up the bliss of kicking back on a hammock near surf-washed sands, caressed and refreshed by island trade winds. The recently released CD by Jim 'Kimo' West and Ken Emerson ushers you into an unhurried world free of traffic jams and family frenzy.
With West on slack-key guitar and Emerson on acoustic steel guitar, the slow pieces are dreamy and tantalizing while even the fast-paced numbers evoke a time when life seemed simpler. West is acclaimed on the mainland and in Hawai'i for his artful use of open string tunings that are the heart of traditional slack key. Emerson tuned into the culture, studying Hawaiian language, listening to vintage recordings of Hawaiian music, and becoming a proficient slack key as well as steel guitar player.
jimmowest.com
TICKET PRICES:
$40
Orchestra
$30
Parterre
$25
Balcony
$30
Pick 5