CELEBRATION OF AMERICAN BLACK HISTORY: THE STRING QUEENS
Bundle
Buy Bundle
LEGENDS SERIES:
March 3, 2023 @ 8pm - Billy Nation (Billy Joel Tribute)
March 4, 2023 @ 8pm - Elton The Early Years (Elton John Tribute)
April 6, 2023 @ 8pm - Wild World (Cat Stevens Tribute)
April 7, 2023 @ 8pm - Everyday People (Sly and the Family Stone Tribute
May 26, 2023 @ 8pm - Garth Guy (Garth Brooks Tribute)
May 27, 2023 @ 8pm - Strange Days (Doors Tribute)

ALOHA SERIES:
March 1, 2023 @ 7:30pm – Kulaiwi
May 25, 2023 @ 7:30pm – Slack Key with Kimo West and Ken Emerson

CLASSICAL SERIES:
February 25, 2023 @ 7:30pm - The String Queens
April 8, 2023 @ 7:30pm – Anita Graef, Cello/ Peter Dugan, Piano, Kara Dugan, Soprano

BIG BAND SERIES:
March 5, 2023 @ 2pm – 11th Annual Jazz Festival
April 2, 2023 @ 2pm – Swingin' with Sammy
May 28, 2023 @ 2pm – Big Band Memorial Day Tribute

DANCE SERIES:
April 29, 2023 @ 8pm - Ririe-Woodbury Dance Company

SPOTLIGHT SERIES:
February 24, 2023 @ 7:30pm - Sherry Williams (Then and Now)
February 26, 2023 @ 2pm - Jonathan Karrant (Reimagined)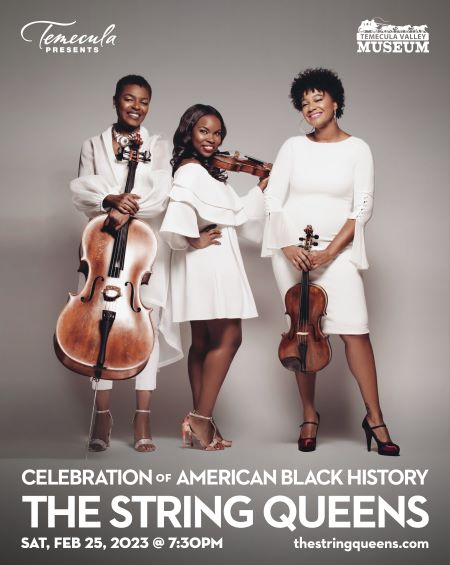 SAT, FEB 25, 2023 @ 7:30PM
Presented by
Temecula Presents and Temecula Valley Museum
VENUE:
The Old Town Temecula Community Theater
Join Us for the Annual Celebration of American Black History. This year we will focus on black americans in classical music.
The String Queens (TSQ) are a dynamic trio creating stimulating musical experiences that inspire diverse audiences to love, hope, feel, and imagine! With a repertoire ranging from the Baroque Era to the Jazz Age to today's Billboard Hot 100 chart, TSQ performs versatile programs that transport audiences through time and genres. TSQ members have been featured in famed performance venues across four continents. One of their many performances was during the We Are One celebration as part of the official Presidential Inauguration.
thestringqueens.com
TICKET PRICES:$25
Regular
$15
Students
$20
Pick 5