BACKHAUSDANCE 2022
Bundle
Buy Bundle
LEGENDS SERIES:
March 3, 2023 @ 8pm - Billy Nation (Billy Joel Tribute)
March 4, 2023 @ 8pm - Elton The Early Years (Elton John Tribute)
April 6, 2023 @ 8pm - Wild World (Cat Stevens Tribute)
April 7, 2023 @ 8pm - Everyday People (Sly and the Family Stone Tribute
May 26, 2023 @ 8pm - Garth Guy (Garth Brooks Tribute)
May 27, 2023 @ 8pm - Strange Days (Doors Tribute)

ALOHA SERIES:
March 1, 2023 @ 7:30pm – Kulaiwi
May 25, 2023 @ 7:30pm – Slack Key with Kimo West and Ken Emerson

CLASSICAL SERIES:
February 25, 2023 @ 7:30pm - The String Queens
April 8, 2023 @ 7:30pm – Anita Graef, Cello/ Peter Dugan, Piano, Kara Dugan, Soprano

BIG BAND SERIES:
March 5, 2023 @ 2pm – 11th Annual Jazz Festival
April 2, 2023 @ 2pm – Swingin' with Sammy
May 28, 2023 @ 2pm – Big Band Memorial Day Tribute

DANCE SERIES:
April 29, 2023 @ 8pm - Ririe-Woodbury Dance Company

SPOTLIGHT SERIES:
February 24, 2023 @ 7:30pm - Sherry Williams (Then and Now)
February 26, 2023 @ 2pm - Jonathan Karrant (Reimagined)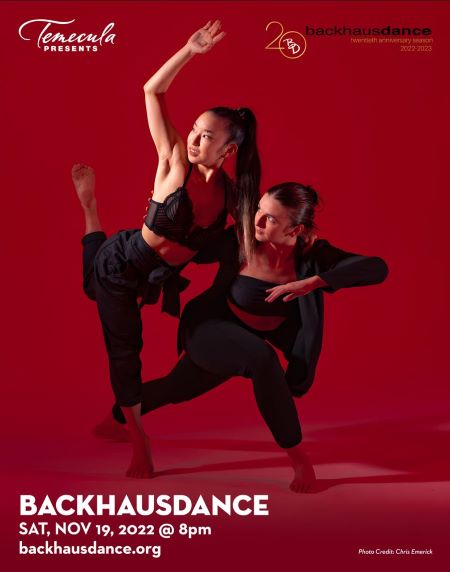 SAT, NOV 19, 2022 @ 8PM
Presented by Temecula Presents
VENUE:
Old Town Temecula Community Theater
Temecula Presents' residency performers Backhausdance return to Temecula's main stage! Formed in 2003 by Jennifer Backhaus, Backhausdance is known for its lush movement vocabulary and ensemble aesthetic featuring deeply human and emotional creations that are infused with a sense of humor and theatricality.
Backhausdance has received 10 Lester Horton Awards from the Dance Resource Center of Los Angeles for achievements in choreography, design, and performance, helping propel them to the forefront of Southern California's contemporary dance scene. Grounded in an eclectic and dynamic vocabulary with a wonderful sense of fluidity and strength, the company's repertory includes powerful, athletic dances, emotionally charged dramatic pieces, and whimsical, humorous glimpses at the human experience.
www.backhausdance.org

PROGRAM
7:45 pm - pre-performance lecture with Jennifer Backhaus, founder and artistic director, Backhausdance

*One Continuous Line (2019) - Choreographer: Jennifer Backhaus
*The Emergent Self (world premiere) - Choreographer: Amanda Kay White in collaboration with the dancers
*Fate and Fantasy (world premiere) - Guest Choreographer: Ching Ching Wong
*Everywhere, But Here (world premiere) - Guest Choreographer: Tommie-Waheed Evans

TICKET PRICES:
$25 Regular
$20 Senior 65+/Military & Groups of 15+*
$15 Student


DANCE SEASON PACKAGE PRICES:
$70 Regular for all three performances
$55 Senior 65+/Military for all three performances
$40 Students for all three performances

*Please call ticket office for group orders


FREE MASTER DANCE CLASS
SUN, NOV 20, 2022 from 11AM-12:30PM

Backhausdance will offer a free, ninety-minute master class during their residency. This is your opportunity to study with world-class, professional dancers. Space is limited, CLICK HERE, to register or contact the Ticket Office at 1.866.OLD.TOWN (1.866.653.8696). The class will be held at Temecula Theater's Dance Studio.