CARPENTERS LEGACY STARRING SALLY OLSON & NED MILLS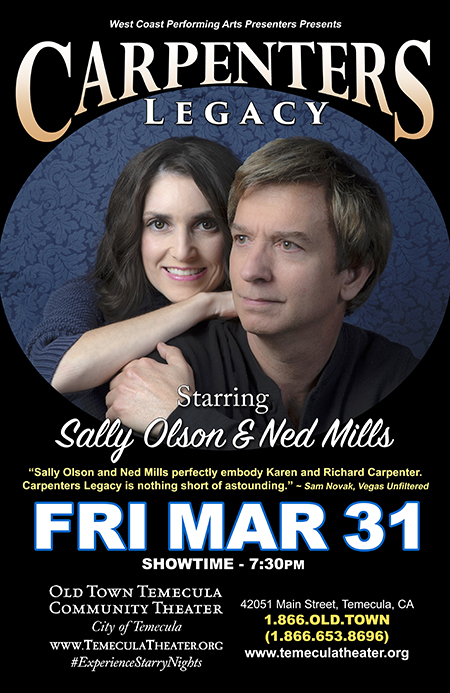 FRI, MAR 31, 2023 @ 7:30PM
Presented by West Coast Performing Arts Presenters
VENUE:
The Old Town Temecula Community Theater
Direct from Las Vegas, Carpenters Legacy: A Re-creation of the 1976 UK Tour is the definitive show celebrating the music and legacy of the famed brother-sister duo. Starring Sally Olson as Karen Carpenter and Ned Mills as Richard Carpenter, the show is a re-creation of the Carpenters' 1976 live performances, featuring hits including "We've Only Just Begun", "Yesterday Once More", "Superstar", Karen's drum solo, Richard's classical piano feature, a Spike Jones parody of "Close To You", comedy antics and much more.
Carpenters Legacy was voted "Best Impersonator" (Bronze Winner) for the 2021 Best of Las Vegas awards. Olson is the first-ever and only Karen Carpenter tribute artist to perform with the world-renowned Las Vegas based review Legends In Concert. Carpenters Legacy features a powerful live performance, historical commentary, lovely arrangements and video, taking audiences on an incredible journey down memory lane into the world of the Carpenters – the world's ONLY authentic Carpenters tribute in sight and sound.
"Musically sound, vocally spot-on, and will please any fans of the duo." ~ John Katsilometes, Las Vegas Review-Journal
"Sally Olson and Ned Mills perfectly embody Karen and Richard Carpenter. Carpenters Legacy is nothing short of astounding." ~ Sam Novak, Vegas Unfiltered
"Heartfelt and honest" ~ Randy Schmidt, author of Little Girl Blue: The Life of Karen Carpenter
Check out their
promo video.
TICKET PRICES: $69
Orchestra Front
$59
Orchestra
$49
Parterre
$39
Balcony