BRAZILIAN & LATIN JAZZ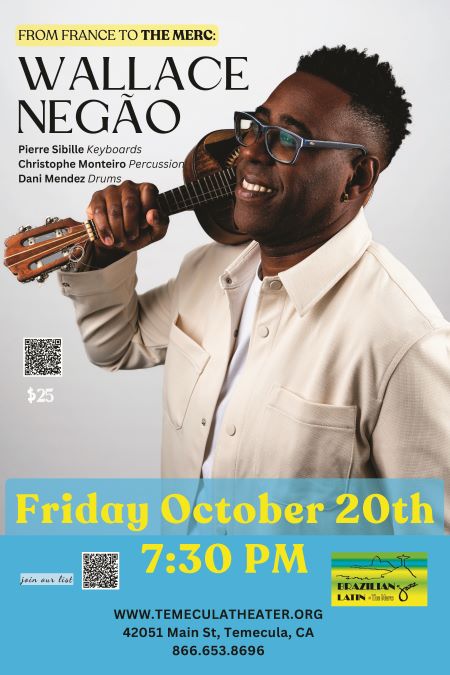 Presented by Gloria and Javier Arjona


Monthly every 3rd Friday @ 7:30PM

Get ready to sway to the sounds of Brazilian and Latin jazz every 3rd Friday of the month at The Merc! Experience a night of vibrant music and smooth grooves with local and international musicians taking the stage. With featured artists changing each month, you'll never know who you'll see next. Keep up with the latest by following Brazilian & Latin Jazz at The Merc on Facebook and don't miss a beat of this unforgettable concert series.
Featuring this month!
Wallace Negão Brazilian Quartet touring from France!


A native of Rio de Janeiro residing in France, Wallace Negão was brought up on the music of his region from a very young age. Over the years, Wallace developed a passion for singing, songwriting, and playing the cavaquinho. Thanks to his unique, soulful voice and the virtuosity of his cavaquinho, Wallace was able to perform on many stages and open for famous artists such as Ivete Sangalo, Fundo de Quintal, Revelação, Os travessos, Sorriso Maroto, Grupo Pixote, Os Morenos, Sociedade do Samba, Ki Prazer and Asa de Aguia. His electrifying performances and immense talent has allowed him to lead numerous Brazilian concerts and festivals in France, Denmark, Holland, and Spain. Although he is a samba specialist, Wallace embodies the diversity of Brazilian culture. His live performances can transport crowds not only into the world of samba and pagode, but also soul, electro, funk, and, samba reggae. His music fuses together both traditional and modern rhythms, taking audiences on a festive trip to the festivals of Brazil! Wallace is currently working on his debut album which is set to be released next year.

Wallace Show: Wallace Negão is a Brazilian artist from the new generation of samba. His performances embody the joy and richness of Brazilian culture. His unique, soulful voice and the virtuosity of his cavaquinho transports crowds not only into the world of samba and pagode, but soul, jazz, electro, funk, and, samba reggae. His music fuses together both traditional and modern rhythms, taking audiences on a festive journey!

Musicians:
Vocals / Cavaquinho - Wallace Negão
Keyboards / Pierre Sibille
Percussion / Christophe Monteiro
Drums / Dani Mendez

Facebook l Instagram l Spotify l Youtube

TICKETS:
$25 Regular
$20 Students w/ID