GREAT OAKS HS SYMPHONIC GROUP AND JAZZ ENSEMBLE WITH SPECIAL GUEST!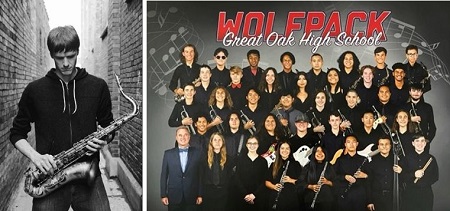 THU, MAR 2, 2023 @ 7:30PM
SherryBerry Music in association with Temecula Presents


VENUE: Old Town Temecula Community Theater


Featuring The Combined Jazz Ensembles, followed by a select group of Great Oak Performers and Solo Artist Derek Brown. Derek has performed solo concerts in all 50 United States and over 25 countries around the world (over 200 total international shows)! Known for his boundless energy on stage, creative audience interaction, and musical depth, Derek's live shows always surprise and delight. His ongoing
"BEATBoX SAX" music videos
and tutorials on YouTube have been enormously popular among saxophonists and music lovers alike (over 150,000 Youtube subscriptions), leading to endorsements with Legere, JodyJazz, P.Mauriat, BG France, and Austrian Audio.
Derek has 30+ million views across social media to his appearance on international television and NPR's Weekend Edition, Billboard-charting saxophonist/innovator Derek Brown and his one-of-a-kind solo "BEATBoX SAX" project has been exploding across the world music scene.
Derek Brown Bio
TICKET PRICES:
$20 Regular
$15 Students