THE SPRINGSTEEN EXPERIENCE: A TRIBUTE TO THE BOSS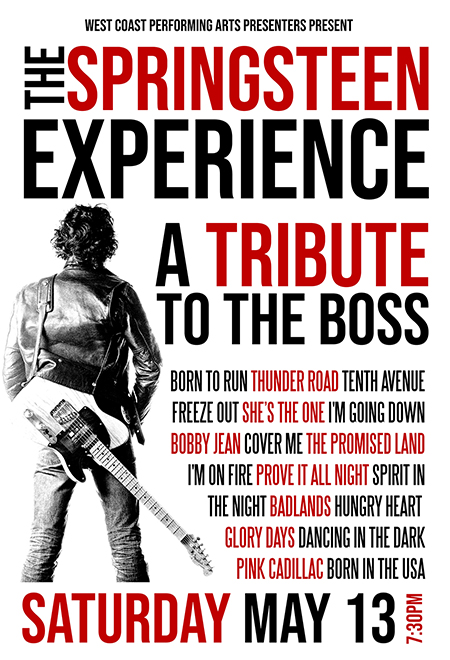 SAT, MAY 13, 2023 @ 7:30PM
Presented by West Coast Performing Arts Presenters
VENUE:
The Old Town Temecula Community Theater
THE Springsteen Experience is a high-octane, chronological journey, recreating the most memorable moments and stage interactions throughout E STREET concert history. From 1973 through the height of Bruce's Fame in the 80's and beyond, this theatrical production accurately replicates an authentic Springsteen concert; including vintage equipment and stage sets, multiple costume changes, and note-perfect renditions of Bruce's most popular hits and lyrical gems. Close your eyes and you'll swear you hear Bruce; open them and you'll believe you see a youthful Springsteen performing at a time when he was dubbed "rock'n'roll's future".
There's only one Bruce, but even die-hard fans will be convinced they've seen another.
"
You can't possibly get any closer to a real Bruce concert
" - Las Vegas Review
Check out their
video
!
TICKET PRICES:$69
Orchestra Front
$59
Orchestra
$49
Parterre
$39
Balcony