ODC DANCE
Bundle
Buy Bundle
LEGENDS SERIES:
Thu, October 5, 2023 8pm - Caress of Steel (Rush Tribute)
Fri, October 6, 2023 @ 8pm - Fan Halen (Van Halen Tribute)
Wed, January 10, 2024 @ 8pm - Britain's Finest (The Complete Beatles Experience)
Thu, January 11, 2024 @ 8pm - Kenny Cetera's Chicago Experience (Chicago Tribute)
Fri, January 12, 2024 @ 8pm - Never a Dull Moment (Rod Stewart Tribute)
Thu, February 29, 2024 @ 8pm - Bee Gees Gold (Bee Gees Tribute)
Fri, March 1, 2024 @ 8pm - The Long Run (Eagles Tribute)
Thu, March 28, 2024 @ 8pm - Deepest Purple (Deep Purple Tribute)
Fri, March 29, 2024 @ 8pm - Prince Again (Prince Tribute)
Sat, March 30, 2024 @ 8pm - Bonfire (AC/DC Tribute)
Fri, May 24, 2024 @ 8pm - A Perfect Tool (Tool Tribute)

ALOHA SERIES:
Wed, October 4, 2023 @ 7:30pm – Kala'e Parish with Special Guest Kalena
Wed, February 28, 2024 @ 7:30pm - Kalama Brothers
Wed, March 27, 2024 @ 7:30pm - Makaha Sons
Thu, May 23, 2024 @ 7:30pm - Kapes

BIG BAND SERIES:
Sun, October 8, 2023 @ 2pm - Sherry Williams and Friends
Sun, January 14, 2024 @ 2pm - Rat Pack Celebration
Sun, March 31, 2024 @ 2pm - 12th Annual Jazz Festival

DANCE SERIES:
Sat, September 23, 2023 @ 8pm - ODC Dance
Sat, Novermber 18, 2023 @ 8pm - Backhausdance
Sat, April 27, 2024 @ 8pm - State Street Ballet

CLASSICS SERIES:
Sat, October 7, 2023 @ 7:30pm - Beo String Quartet
Sat, January 13, 2024 @ 7:30pm - Spanish Brass
Sat, March 2, 2024 @ 7:30pm - Ching-Yun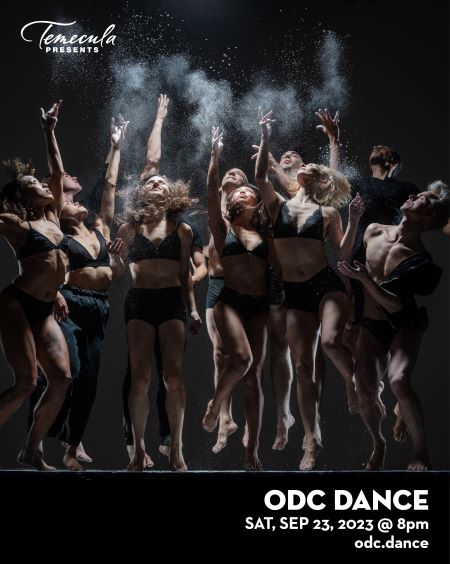 SAT, SEP 23, 2023 @ 8PM
Presented by Temecula Presents
VENUE:
Old Town Temecula Community Theater
The ODC/Dance Company is widely recognized for its rigorous technique and numerous groundbreaking collaborations. Comprised of ten world-class dancers, the company performs its imaginative repertory for more than 50,000 people annually. Two annual home seasons in San Francisco include Dance Downtown and the holiday production, The Velveteen Rabbit. Recent highlights include appearances at the Brooklyn Academy of Music Next Wave Festival in New York, MODAFE Festival in Seoul, Korea, Zellerbach Hall in Berkeley, and past standing-room-only engagements in Europe, Russia, and Asia. Founded in 1971 by Artistic Director Brenda Way, ODC is known nationally for entrepreneurial savvy and being the first modern dance company in the United States to own its home facility, the ODC Theater. In 2005, ODC expanded its campus to include the ODC Dance Commons, which houses ODC/Dance, ODC School, a Pilates studio, and a Healthy Dancers' Clinic.
odc.dance
TICKET PRICES:$25
Regular
$20
Senior 65+/Military & Groups of 15+*
$20
Pick 5
$15
Students
*Please call ticket office for group orders


FREE MASTER DANCE CLASSSAT, SEP 23, 2023 @ 1PM
ODC Dance will offer a free, ninety-minute master class during their residency. This is your opportunity to study with world-class, professional dancers. Registration is now open. To register please contact the Ticket Office at
1.866.OLD.TOWN
(1.866.653.8696). The class will be held at Temecula Theater's Dance Studio.