BRITAIN'S FINEST (THE COMPLETE BEATLES EXPERIENCE)
Bundle
Buy Bundle
LEGENDS SERIES:
Wed, January 10, 2024 @ 8pm - Britain's Finest (The Complete Beatles Experience)
Thu, January 11, 2024 @ 8pm - Kenny Cetera's Chicago Experience (Chicago Tribute)
Fri, January 12, 2024 @ 8pm - Never a Dull Moment (Rod Stewart Tribute)
Thu, February 29, 2024 @ 8pm - Bee Gees Gold (Bee Gees Tribute)
Fri, March 1, 2024 @ 8pm - The Long Run (Eagles Tribute)
Thu, March 28, 2024 @ 8pm - Deepest Purple (Deep Purple Tribute)
Fri, March 29, 2024 @ 8pm - Prince Again (Prince Tribute)
Sat, March 30, 2024 @ 8pm - Bonfire (AC/DC Tribute)
Fri, May 24, 2024 @ 8pm - A Perfect Tool (Tool Tribute)

BIG BAND SERIES:
Sun, January 14, 2024 @ 2pm - Rat Pack Celebration
Sun, March 31, 2024 @ 2pm - 12th Annual Jazz Festival

DANCE SERIES:
Sat, Novermber 18, 2023 @ 8pm - Backhausdance
Sat, April 27, 2024 @ 8pm - State Street Ballet

CLASSICS SERIES:
Sat, January 13, 2024 @ 7:30pm - Spanish Brass
Sat, March 2, 2024 @ 7:30pm - Ching-Yun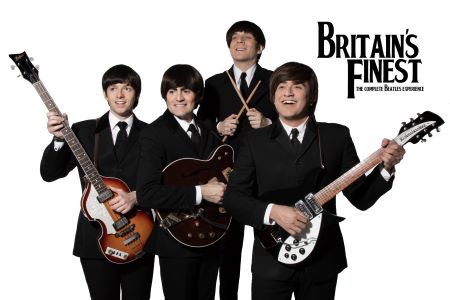 WED, JAN 10, 2024 @ 8PM
Presented by Temecula Presents


VENUE:
The Old Town Temecula Community Theater
Get ready to relive Beatlemania with So Cal's very own foremost Beatles tribute band Britain's Finest. The group transcends far above other Beatles tributes due to their precise attention to detail and appearance. With uncanny, note-for-note live renditions of Beatles' classics such as
"I Want To Hold Your Hand," "She Loves You," "Twist And Shout," "A Hard Day's Night", "Hello Goodbye", "Sgt. Pepper's", "Something", "Get Back",
and
"Hey Jude".
Britain's Finest will take you to that place only the music of The Beatles can.
This admiring and faithful tribute to the Beatles has amazed audiences nationally and internationally, as well as performed at the 2016 International BeatleWeek in Liverpool at the world famous Cavern Club, and AXS TV's "World's Greatest Tribute Bands".
Britain's Finest is truly the complete Beatles experience. "
As close to the real deal as you may ever find in this lifetime
." – CBS LA

TICKET PRICES:

$25 Regular
$20 Pick 5