CLASSICS @ THE MERC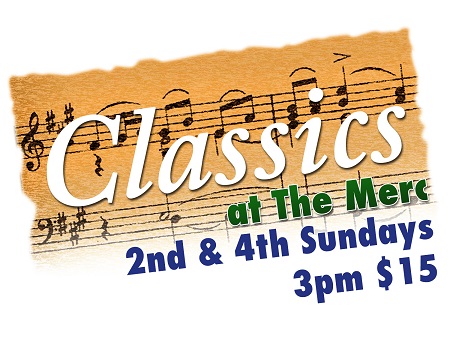 Presented by California Chamber Orchestra association with Temecula Presents


Classics at The Merc is a bi-monthly chamber recital series co-produced by the California Chamber Orchestra and Temecula Presents.
Every 2nd and 4th Sunday afternoon we feature an individual musician or small ensemble performing a wide range of music. Our performers are all working professional musicians or advanced conservatory students.


The Classics at The Merc series is curated by Michael Molnau: Principal Violist, Music Librarian, and Orchestra Personnel Manager for the California Chamber Orchestra. In addition to featuring professional musicians from our own community, our close affiliations with San Diego State University's Adams' Project and with the Consortium of Southern California Chamber Music Presenters allow us to present a wide range of talent from Southern California and beyond.
TICKETS:
$15 Regular
$5 Students w/ID


Click the "Buy Tickets" button to view upcoming Featured Performers.